VoyageChicago Staff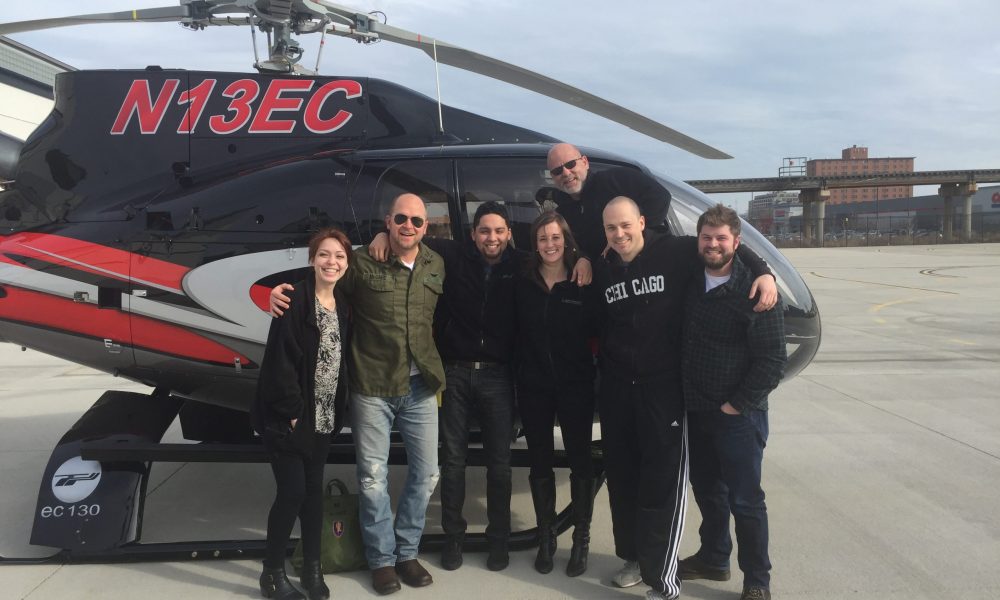 Today we'd like to introduce you to Bob McCabe.
Alright – so let's talk business. Tell us about your role at Vertiport Chicago – what do you do?
I am Chief Business Development Officer for Vertiport Chicago. My focus is on educating two different marketplaces on the benefits of using helicopter service. We like to say the helicopter is really a time machine because, in the end, that's what we are selling: Time. Time saved by avoiding traffic is time that can be used productively. I am focused on building relationships based on the value of time with two distinct groups: high net worth individuals and corporations, more specifically their top executives who are always on the go.
Tell us about Vertiport Chicago…what are you most proud of? What is the most meaningful part of your job?
I am most proud of the state-of-the-art amenities and facilities we have at the Vertiport and the way we consistently treat our customers like VIPs.  Everyone is blown away by how beautiful this facility is and the team here is so customer-focused.
Helicopter aviation is an exciting industry. Charter service gives our clientele the gift of time as well as better control over their travel schedules. We take business and leisure travelers off the traffic-clogged expressways and in a SkyLimo get them where they need to be quicker and without stress.  It is a highly efficient way to travel for that last leg connection; for example, from O'Hare to downtown or even home, depending on the circumstances.
For me, perhaps the most meaningful and rewarding part of the job is to feel I am part of a team that is bringing helicopter aviation back to this great city.  In a sort of Back to the Future way, Vertiport Chicago marks the return of a dedicated commercial helicopter facility to downtown Chicago. Downtown helicopter aviation has been pretty dead since Meigs Field closed down and now it is making a comeback. I am on that comeback team. The Vertiport provides transportation solutions Chicago needs as part of its stature as a world-class city like Tokyo, London, or Paris.
We also serve as a vital hub for emergency medical service flights (EMS, lifesaving organ deliveries, patient transfers) and are ideally located in the Illinois Medical District for this reason. It gives great purpose and meaning to me to know that we provide transportation solutions that can and do help save lives.  We are especially proud to have recently been awarded a "Partner in Safety" Award by the Flight for Life-McHenry Safety Committee in recognition of this key role Vertiport Chicago and our team play in this transport system.
Any shout-outs? Who else deserves credit in this story – who has played a key role?
We have an impressive and visionary group of investors and board of directors, all Chicagoans, dedicated to expanding Chicago's reputations a world class city. Kudos should also go to Mayor Rahm Emanuel who was instrumental in grasping the impact of our investors' vision and helping us to navigate Chicago's building requirements and permitting.
As far as shouts outs, Anthony Pontarelli, one of our board members and investors, deserves a huge shout-out. He stepped into the Vertiport in 2015 to finish the $10 million construction detail and set up the operations from the ground up. His experience in executive transportation was critical. It took long days and weekends to open a 24/7 facility of this size. Rumor has it he even plowed the tarmac on the weekends before the ramp personnel were in place.    A couple more shout-outs include Dan Mojica who is in charge of our helicopter tour business, Jenny Ross who handles commercial operations and Andrew Glory who manages our technical and flight operations.
Contact Info:
Getting in touch: VoyageChicago is built on recommendations from the community; it's how we uncover hidden gems, so if you know someone who deserves recognition please let us know here.